Biology, Marine & Terrestrial
In this Section:
Article: New insight concerning transoceanic migratory pathways of Pacific Golden-Plovers (Pluvialis fulva): the Japan stopover and other linkages as revealed by geolocators.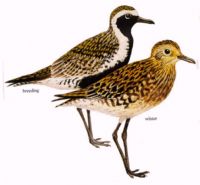 From the journal Wader Study Group Bulletin 119(1): 1–8
Click here or title for whole article (pdf). Click this link for abstract (pdf).
Authors:Johnson, O.W., Fielding, L., Fisher, J.P., Gold, R.S., Goodwill, R.H., Bruner, A.E., Furey, J.F., Brusseau, P.A., Brusseau, N.H., Johnson, P.M., Jukema, J., Prince, L.L., Tenney, M.J. & Fox, J.W.