Suggested Links, Articles, Books & Maps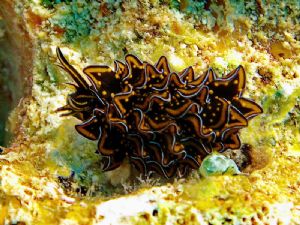 National Geographic Nudibranch article
- fantastic pictures of these diverse and colorful sea creatures.
Cyerce nigricans from Fiji.
by John Fraser
Posted 12-04-2012
---
A Manual for the Identification of Vascular Plants on the Island
Micronesica Vol 6 University of Guam 1970
by Benjamin C Stone
---
New insight concerning transoceanic migratory pathways of Pacific Golden-Plovers (Pluvialis fulva): the Japan stopover and other linkages as revealed by geolocators.
Wader Study Group Bulletin 119(1): 1–8.
Johnson, O.W., Fielding, L., Fisher, J.P., Gold, R.S., Goodwill, R.H., Bruner, A.E., Furey, J.F., Brusseau, P.A., Brusseau, N.H., Johnson, P.M., Jukema, J., Prince, L.L., Tenney, M.J. & Fox, J.W. 2012.
Abstract: We used light level archival geolocators (data loggers) to track annual migrations of Pacific Golden-Plovers Pluvialis fulva at non-breeding grounds on American Samoa and Saipan, and at nesting grounds near Nome in W Alaska.
Among wintering birds, we deployed loggers in spring 2010 and recovered them during the 2010–2011 non-breeding season when the site-faithful birds had returned; deployment on breeding birds was in summer 2009 and 2010, logger recovery in each group was one year later when the plovers were again nesting.
Logger archives from American Samoa and Nome birds revealed a clockwise, circular transoceanic pattern (previously unknown in this species) consisting of three lengthy movements: 1. southward from Alaska in autumn via the mid-Pacific Flyway (American Samoa birds wintered at the same sites where they had been captured, Nome birds wintered variously at Christmas Island, Marshall Islands, Gilbert Islands, Fiji, and Fraser Is., Queensland); 2. in spring, the plovers traveled north-westward to Japan (the track from Fraser Is. was via Taiwan) where they made stopovers averaging about three weeks; 3. from Japan and Taiwan, the final segment was north-eastward to nesting grounds in Alaska.
Great circle distances along this annual clockwise journey varied with location of wintering grounds ranging from about 16,000 to 26,700 km. Flights on each of the three segments appeared to be mostly nonstop at estimated mean ground speeds of 59–78 kph over periods of about 3–8 days. Three individuals made transoceanic passages at apparent record-setting ground speeds in excess of 100 kph.
In spring, the Saipan birds followed the East Asian-Australasian Flyway with stopovers in Japan and elsewhere in Asia before arriving at nest sites in Chukotka and Kamchatka. Two Saipan birds made long over-water flights from Japan to W Alaska. One of them traveled from the Seward Peninsula to Chukotka and nested there. Where the other bird nested is uncertain because its geolocator failed. In fall, the individual that had reached Chukotka via Alaska backtracked and made a flight from Alaska across the western Pacific to Saipan. The other Saipan birds returned via mainland Asia and Japan.
Our findings indicate that Japan is a key stopover (especially in spring when plovers from widely separated areas of the winter range converge there), and demonstrate that Alaska hosts a breeding population of Pacific Golden-Plovers comprised of birds from most if not all of the Pacific winter range.
---
Summary of recorded cetacean strandings in the Commonwealth of the Northern Mariana Islands
Micronesica 43(1) May 2012 Abstracts
Triani, M.S. & M.C. Tenorio
Abstract- Documented strandings in the Commonwealth of the Northern Mariana Islands over the past 17 years are reviewed with recorded autopsy information provided. Most of the strandings occurred on the island of Saipan, although two whales were noted to have stranded during this period on Tinian, one identified asBalaenoptera edeni, the Byrdes whale, while the other was not identified. The planned expansion of military activities in the Marianas Archipelago, particularly the use of sonar and the potential impact on cetaceans, is noted.
Micronesica 43(1): 1-13, 2012. Full Text
---
---
This is a FREE ONLINE BOOK edited by:
Navjot S. Sodhi
Department of Biological Sciences, National University of Singapore AND *Department of
Organismic and Evolutionary Biology, Harvard University (*Address while the book was prepared)
Paul R. Ehrlich
Department of Biology, Stanford University
Chapter descriptions, excerpted from the book:
The book contains 16 chapters, which are briefly introduced below:
Chapter 1. Conservation biology: past and present
In this chapter, Curt Meine introduces the discipline
by tracing its history. He also highlights the interdisciplinary
nature of conservation science.
Chapter 2. Biodiversity
Kevin J. Gaston defines biodiversity and lays out the
obstacles to its better understanding in this chapter.
Chapter 3. Ecosystem functioning and services
In this chapter, Cagan H. Sekercioglu recapitulates
natural ecosystem functions and services.
Chapter 4. Habitat destruction: death by a
thousand cuts
William F. Laurance provides an overview of contemporary
habitat loss in this chapter. He evaluates
patterns of habitat destruction geographically and
contrasts it in different biomes and ecosystems. He
also reviews some of the ultimate and proximate
factors causing habitat loss.
Chapter 5. Habitat fragmentation and landscape
change
Conceptual approaches used to understand conservation
in fragmented landscapes are summarized in
this chapter by Andrew F. Bennett and Denis A.
Saunders. They also examine biophysical aspects of
landscape change, and how such change affects populations,
species, and communities.
Chapter 6. Overharvesting
Biodiversity is under heavy threat from anthropogenic
overexploitation (e.g. harvest for food or decoration
or of live animals for the pet trade). For
example, bushmeat or wild meat hunting is imperiling
many tropical species as expanding human populations
in these regions seek new sources of
protein and create potentially profitable new avenues
for trade at both local and international levels.
In this Chapter, Carlos A. Peres highlights the effects
of human exploitation of terrestrial and aquatic
biomes on biodiversity.
Chapter 7. Invasive species
Daniel Simberloff presents an overview of invasive
species, their impacts andmanagement in this chapter.
Chapter 8. Climate change
Climate change is quickly emerging as a key issue in
the battle to preserve biodiversity. In this chapter,
Thomas E. Lovejoy reports on the documented impacts
of climate change on biotas.
Chapter 9. Fire and biodiversity
Evolutionary and ecological principles related to
conservation in landscapes subject to regular
fires are presented in this chapter by David M. J. S.
Bowman and Brett P. Murphy.
Chapter 10. Extinctions and the practice of
preventing them
Stuart L. Pimm and Clinton N. Jenkins explore why
extinctions are the critical issue for conservation
science. They also list a number of conservation
options.
Chapter 11. Conservation planning and priorities
In this chapter, Thomas Brooks charts the history,
state, and prospects of conservation planning and
prioritization in terrestrial and aquatic habitats. He
focuses on successful conservation implementation
planned through the discipline's conceptual framework
of vulnerability and irreplaceability.
Chapter 12. Endangered species management: the
US experience
In this chapter, David S. Wilcove focuses on
endangered species management, emphasizing the
United States of America (US) experience. Because
the US has one of the oldest and possibly strongest
laws to protect endangered species, it provides an
illuminating case history.
Chapter 13. Conservation in human-modified
landscapes
Lian Pin Koh and Toby A. Gardner discuss the
challenges of conserving biodiversity in degraded
and modified landscapes with a focus on the tropical
terrestrial biome in this chapter. They highlight
the extent to which human activities have modified
natural ecosystems and outline opportunities for
conserving biodiversity in human-modified landscapes.
Chapter 14. The roles of people in conservation
The effective and sustainable protection of biodiversity
will require that the sustenance needs of native
people are adequately considered. In this chapter, C.
Anne Claus, Kai M. A. Chan, and Terre Satterfield
highlight that understanding human activities and
human roles in conservation is fundamental to effective
conservation.
Chapter 15. From conservation theory to practice:
crossing the divide
Madhu Rao and Joshua Ginsberg explore the
implementation of conservation science in this chapter.
Chapter 16. The conservation biologist's toolbox –
principles for the design and analysis of conservation
studies
In this chapter, Corey J. A. Bradshaw and Barry
W. Brook, discuss measures of biodiversity patterns
followed by an overview of experimental design and
associated statistical paradigms. They also present
the analysis of abundance time series, assessments
of species' endangerment, and a brief introduction
to genetic tools to assess the conservation status of
species.
---
Island Ecology & Resource Management: Commonwealth of the Northern Mariana Islands gathers together many contributors to give a comprehensive presentation about resources of the CNMI. This book should be considered an essential read for resource and environmental students and workers, newcomers and anyone else who desires an understanding of the ecology of our archipelago.
---
---
INVERTEBRATES RECORDED FROM THE NORTHERN MARIANAS ISLANDS - STATUS 2002 by O. BOURQUIN, CONSULTANT
Click link for the 02 April 2013, edited version, a 365 page, 1.33 MB Word Document.
Ed (JFF) notes. A little over ten years ago Dr. Bourquin individually accomplished this incredible 365 page cataloging of the CNMI insects--later to be expanded to include all CNMI terrestrial invertebrates--collection being conserved on the NMC campus, Saipan. Dr. Bourquin hoped the catalog would be published, however, this has not yet occurred (April 2013). As a backup, Dr. Bourquin provided certain individuals with digital and hard copy versions of his work, JFF being amongst these. APASEEM was established after Dr. Bourquin moved to Montana State on the US mainland. As part of our website's Local Organism Identification goals, APASEEM is pleased to make this important (minimally-edited) catalog available
Posted April 17, 2013
---
Northern Mariana Islands Christmas Bird Count Database Master Checklist, 2012 Click link to download as a Word document.
Posted April 4, 2013
---
Link to the Historical Index of the journal Micronesica
---
Pensoft Publishers Books - Ebooks - Journals
"Pensoft Publishers specialize in academic and professional book and journal publishing, mostly in the field of biodiversity science and natural history. Starting in 1994, Pensoft has become one of the leading academic publishers based in Eastern Europe with more than 600 books and e-books published so far. We largely perform our activities in English, with only a minor fraction of our own publications being in French, German, Russian and Bulgarian." - from the website
---
Marine Conservation Institute is a nonprofit organization dedicated to maintaining healthy, living oceans for all of us and future generations." - from the website
---
Woods Hole Oceanographic Instution "is the world's largest private, non-profit oceanographic research institution and a global leader in the study and exploration of the ocean." - from the website
---
Scripps Institution of Oceanography "is one of the oldest, largest, and most important centers for ocean and earth science research, education, and public service in the world. Research at Scripps Institution of Oceanography encompasses physical, chemical, biological, geological, and geophysical studies of the oceans and earth." - from the website
---
---
Now available is a detailed color vegetation map of Saipan, Northern Mariana Islands produced by the US Forest Service.
Posted September 15, 2013
---
- Click this link for a printable/downloadable High Resolution Storm Tracking Chart from the Emergency Management Office
Posted March 19, 2013
---
MAPS and other information about the Northern Mariana Islands, Guam, Marshall Islands, Federated States of Micronesia, other countries in Australia/Oceania and the rest of the World are available from Nations Online.
---
Geological Map of Saipan (pdf)
"The U.S. Geologic Survey has updated its map of the geology of the island of Saipan. The first geologic map of Saipan was drawn in 1956 and the knowledge of what lies below the surface of the island has increased considerably over the last half century. Understanding geology is important to determining the availability of groundwater, susceptibility to earthquakes, the likelihood of geothermal resources, and what kind of plants can be grown successfully in different parts of the island. USGS is also in the process of converting its topographic maps of Saipan, Rota, and Tinian into a geo-referenced (i.e. latitude and longitude) electronic format. Topographic maps show elevation change on the surface of an area, and are a basic tool for zoning planners, land use planners, civil engineers, and even hikers." - from website of Congressman Gregorio Killili Camacho Sablan
---
Geological Map of Guam (pdf)
- from the Water and Environmental Research Institute of the Western Pacific (WERI) website
---
Last Updated 1/9/2014